The fall is an interesting time for the WWE. As I mentioned in last week's Black and Blue, it usually means the programming takes a hit in terms of interest. Not only do the story lines traditionally suffer, but the NFL makes its return to Mondays. Well, the WWE was set out to make sure their season premiere didn't suffer, because this show was packed with significant plot.
Opening Segment
This is what I don't understand, is the Authority a neutral group? Why else would Stephanie brag about the success of Roman Reigns and Dean Ambrose?
A lot of us knew they were desperate to bring the ratings back up and going head to head with NFL they did in fact make some bold moves. At first I thought they wasted Sting by not having him compete with someone else with more skill than Big Show, but then I realized it might not require the vigilante to do that much work. Also, there's a good chance Sting requested to work with his former WCW coworker just out of familiarity. The highlight of this segment, and arguably the show was watching Hunter dance with the New Day. That made my night.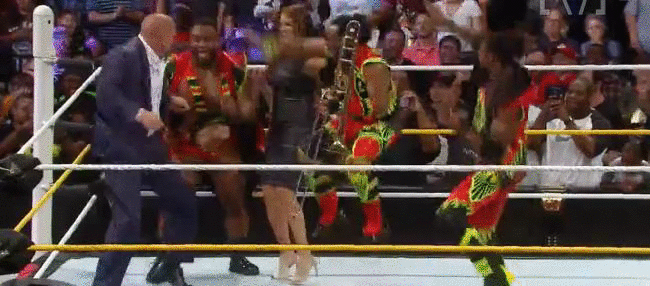 The New Day vs The Primetime Players
Sometimes I feel Darren Young doesn't get enough praise, because he looked extremely smooth and intense in the opening of this match. I especially enjoyed how he recovered from nearly botching a roll up pin. With Titus usually being the main attraction, it seemed as if Young was set to make sure the fans noticed him just as much. There was a time I thought Xavier Woods may exhaust the novelty of his trumpet, but he's proved me wrong. Somehow Woods finds a way to outdo his musical performance in every match. This contest was perfect to open the show, as every single competitor delivered. In terms of entertainment, this may have been my favorite New Day match.
Sasha Banks vs Paige
These two did a great job on Smackdown, but I wasn't excited to see this match for the 3rd time in a row. Out of the two, I thought Sasha looked great in this contest. She knew exactly how to work the crowd (that was clearly behind Paige) and it's a sign she's getting the hang of wrestling on the main roster. While this match shorter than their last, I was pleased this ended cleanly. For anybody that thinks that the WWE doesn't care about Banks, I think the finish here was evidence that they're doing their best to keep her relevant.
Miz TV
I didn't ever think they'd have the Wyatt's appear on Miz TV, but I'd be lying if I said I wasn't excited to see it. By simply ordering the Miz to not sit down, Bray completely took ownership of this promo. By doing this he established that his character's presence was larger. I'm sure everybody was expecting Roman and Dean to make their way out, but they found a way to make it feel more exciting. The faceoff between the two teams was brilliant, and Roman delivered an awesome promo. It's fair to say that Reigns is developing well .Next to the debut of Strowman, this was easily the best promo of the feud. I was under the assumption they would have broken out in a brawl, but I was okay with how they left it off.
John Cena vs Sheamus
I don't remember the last time these two have locked horns, but it's been long enough for this to feel fresh. Their time apart from each other has done wonders, because the two showed some solid chemistry. There wasn't really a point where the in ring work felt dull, since the both competitors were putting in effort. Even when both men were tired out, they found ways to make their rest spots more dramatic. I'm hope everybody else felt the same, but I loved how Cena stole Sheamus' move on the ropes. It was easily the spot of the match. I did wish that John just dropped Sheamus with a powerbomb instead of flipping him over for the electric chair, as the transition looked awkward. Overall, this was a good match. It wasn't too long and it remained entertaining at every point.
Ryback/Kevin Owens Promo
Ryback has had no luck working that mic, because watching him sing was brutal. Until Owens came out, the big guy was completely bombing this promo. Kevin proved that he has the capability of turning any segment around. He definitely hit a homerun with his words. I believe his mic work even made Ryback do a better job. For a segment I thought would turn out bad, it left me pumped for their match at NoC.
Nikki Bella vs Charlotte
Anybody that claims they weren't most excited for this match is a liar. I'm not saying the excitement comes from a great feud, but instead interest in seeing how they develop this feud. I absolutely loved the Nikki vignette, because it did a lot for her character.
I hated how both competitors were introduced as representing a team. That doesn't matter in this match, so it shouldn't be brought up in their introduction. Apart from that, I enjoyed the opening of this match. They started from a steady pace and found a way to pick it up, which is always great for getting the crowd hooked. It was smart for them to book Charlotte as the ore physically dominant, because it wouldn't be realistic any other way. For a match that was moving decently, that finish was complete garbage. I would have rather seen an interference, because we've seen this type of twin magic finish before (Nikki's last title defense). Along with this, it forced Stephanie to come out and act as a babyface Authority figure, which made no sense. Before this started, I was very excited, but it somehow turned out to be the worst part of the show.
Rusev vs Cesaro
In the past these two have shown to have great chemistry with one another, and it was apparent in this contest. The two didn't work anything special, but they worked a simple style which can be appreciated. Is Dolph officially a heel? How am I supposed to believe he's the babyface when he's interfering in a match unprovoked? This finish would have worked if Rusev had earlier attacked Ziggler, but it didn't make sense here.
Big Show vs Sting/Big Show & Seth Rollins vs John Cena & Sting
Up until the bell rang, I was convinced they'd find a way out of this match. Even though there were eventually shenanigans, I can't believe Sting was that heavily involved in physical work. For the most part, the icon looked great, and Big Show sold very well for him. I liked how they switched to the tag match because it allowed us to see Sting but it still protected him. The spot of the match was Rollins' kick to Cena's head while it was on the apron. It wasn't anything great, but his chuckle afterwards was very humorous. I agreed with the finish because I believe it gives Sting the win he needs to look more credible on Sunday. Based on this match, I'm now leaning towards Seth retaining at NoC.
Conclusion
For a go home show, I believe this show did a great job at advancing every feud. While I may not have agreed with the way some of the programs were handled, at least they were handled .The low point of the show was the finish the Nikki vs Charlotte while the high point was the tag team title match. Had the show not have fallen into a lull for two consecutive matches, I would give it an 8.5/10, but since it did this episode of Raw receives a 7/10.
What were your thoughts on last night's Raw?